Health Tips: Make a Choice Today For Your Health
Daily Tips for Healthy Living
WIXX and Aurora BayCare Medical Center are partnering up to help you make a choice today...for your health. Follow along with our daily tips to help you maintain a healthy lifestyle.
April 30th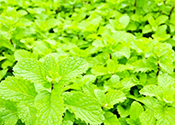 Love fresh herbs? Try growing them!
You can enhance your cooking and save money by growing your own herbs — either indoors or out. An herb garden adds an attractive and cost-saving feature to your kitchen.
Five herbs that can easily be grown indoors or out are: oregano, chives, mint, rosemary and thyme. Place herb containers near the sunniest window available. Most accomplished cooks use these herbs on a regular basis. Herb plants can be transplanted to your outdoor garden soon, if you harden them off first.
Tip: Not all popular herbs can be grown indoors easily. For example, basil quickly turns into a leggy "woody" specimen after only few weeks inside.
So wait and plant basil seeds directly in the ground (or in a container) outside, once the soil warms up and the danger of frost is past. Basil is very easy to grow from seed. Before you know it you'll be sharing your herb bounty with friends and family.